Daniel Bo Hede, Security Analyst, Conscia Detection & Response
Det kommer ikke bag på nogle, at COVID-19-virussen virkelig har fået fat globalt. Det gælder i høj grad også for Danmark, hvor mange virksomheder og medarbejdere nu er tvunget ud i helt andre arbejdsgange end normalt.
For at forhindre smitte har også den danske regering indført en række påbud og forbud, som blandt andet betyder, at de normale arbejdsgange i virksomheder – og den daglig kontakt mellem kolleger – ikke eksisterer i samme grad som før. Det har medført, at mange nye tiltag er blevet truffet i hast for at holde hjulene og økonomien kørende i både den private og den offentlige sektor.
Ét af de tiltag, som bliver brugt hyppigst, er etablering af hjemmearbejdspladser. Det er selvfølgelig ikke nyt at kunne arbejde hjemmefra, men det er nyt for rigtig mange medarbejdere, og det kræver en vis disciplin både at holde koncentrationen, have struktur på arbejdsdagen og også at gebærde sig inden for de tekniske rammer, som eksempelvis netværksforbindelsen giver.
Sikkerhed hjemmefra
Når medarbejderne arbejder hjemmefra, ændres arbejdsrammerne, og det kan have indflydelse på arbejdsprocesserne. Sidder man i private omgivelser, kan man være tilbøjelig til at sænke paraderne en smule, når man tjekker og opdaterer sine private medier og services. Men det er netop her, vi skal være ekstra på vagt! Lad ikke arbejdsmoralen blive liggende på kontoret – bibehold forsigtigheden også derhjemme.
Set fra en virksomheds perspektiv giver hjemmearbejdspladserne en række sikkerhedsmæssige udfordringer. En stor del af IT-sikkerheden samt kontrollen af den, er flyttet med ud til hjemmearbejdspladsen – altså hjem til den enkelte medarbejder. Det får mange virksomheder til at stå med en følelse af at mangle håndtag i form af processer og teknologier, som kan give dem kontrollen over IT-systemerne tilbage. I grove træk skal virksomheden have mulighed for at kræve, at en medarbejders enheder er sikre nok, før de får adgang til virksomhedens nødvendige systemer.
Det kan være et problem. Da virksomheden ikke kan kontrollere medarbejdernes hjemmenetværk, firewall-regler, andre enheder på netværket, opdatering af enheder, u-patchede kendte sårbarheder osv., udsætter de sig selv for en stor risiko. Og de kan have svært ved at varetage og fastholde sikkerhedsprocedurer, når medarbejderen er flyttet hjem. Det kan gå ud over automatiske opdateringer af systemer og programmer, flerfaktor-autentificering til systemer, brugerkontrol eller mangel derpå.
Hvad kan jeg gøre for at sikre mig og min virksomheds IT?
 Der er flere tiltag, man kan bruge som medarbejder, så nedenfor har vi listet et par gode råd:
VPN
VPN er en krypteret forbindelse mellem din computer og din virksomheds netværk. Det gør trafikken umulig at læse for de, der har opsnappet den på vejen. Gør brug af automatisk etablering af VPN på din computer.
Opdateringer
Sørg selv for at holde din maskine samt dens programmer opdaterede, så ondsindede ikke kan udnytte eventuelle huller til at infiltrere din maskine.
Gør brug af Windows automatiske opdatering.
Sæt dine programmer til automatisk at søge efter nye software-versioner.
Fysisk sikkerhed
Når der arbejdes hjemme, er fysisk sikkerhed en lige så stor del som på kontoret. Fjern din computerskærm og fortrolige data fra vinduet og fjern fortrolige dokumenter fra skrivebord og køkkenbord. Lås din computer når du går fra den, og lås din hoveddør hvis du forlader huset. Dette kan virke unødvendigt at låse sin computer i sit eget hus, men det kræver ikke noget ekstra, og din virksomhed sætte stor pris på det.
Hvis du sidder med kritisk data, såsom persondata eller personfølsomme data, skal du tage ekstra hensyn ved håndtering af disse i eget hjem.
Sund fornuft
Det kan lyde lidt banalt. Men faktisk viser det sig, at netop i stressede situationer hvor ens hverdag ændrer sig, er der, hvor vi tænker mindst logisk og tager dårlige beslutninger. Det gælder især falske e-mails fra kriminelle (phishing), der vil have fat i dine personlige oplysninger ved at trykke på et link i en mail. Det gælder også falske sms'er, hvor kriminelle udgiver sig for at skrive på vegne af staten eller politiet (smishing). Der bliver også foretaget svindel over telefon, hvor svindlere udgiver sig for at være fra offentlige myndigheder (Voice Phishing).
Så vær ekstra på vagt og tænk rationelt – du er ikke beskyttet af din virksomheds sikkerhedskontroller.
Vær ekstra opmærksom på e-mail, sms og telefonopkald.
Læs din virksomheds sikkerhedspolitik igennem – den gælder også derhjemme.
Sikkerhed er ikke altid en selvfølge, men en aktiv handling.
Socialt arbejdsmiljø
Det er jo ikke kun tekniske omstillinger, man skal forholde sig til. Der er også nogle sociale. Så hvad kan du gøre for at få det bedste ud af situationen? Man kan godt komme til at føle sig isoleret, som vi jo faktisk er, men man kan gøre noget for at bekæmpe følelsen. Man kan fx benytte sig af din virksomheds foretrukne og sikre kommunikationskanal til at spare og udveksle erfaringer med kolleger og ledere om, hvordan man skal forholde til konkrete arbejdsopgaver.
Hvis det er muligt, kan man også oprette et virtuelt møde med webkamera, hvor man kan snakke med sine kolleger for at få følelsen af samarbejde.
Seneste blogindlæg om sikkerhed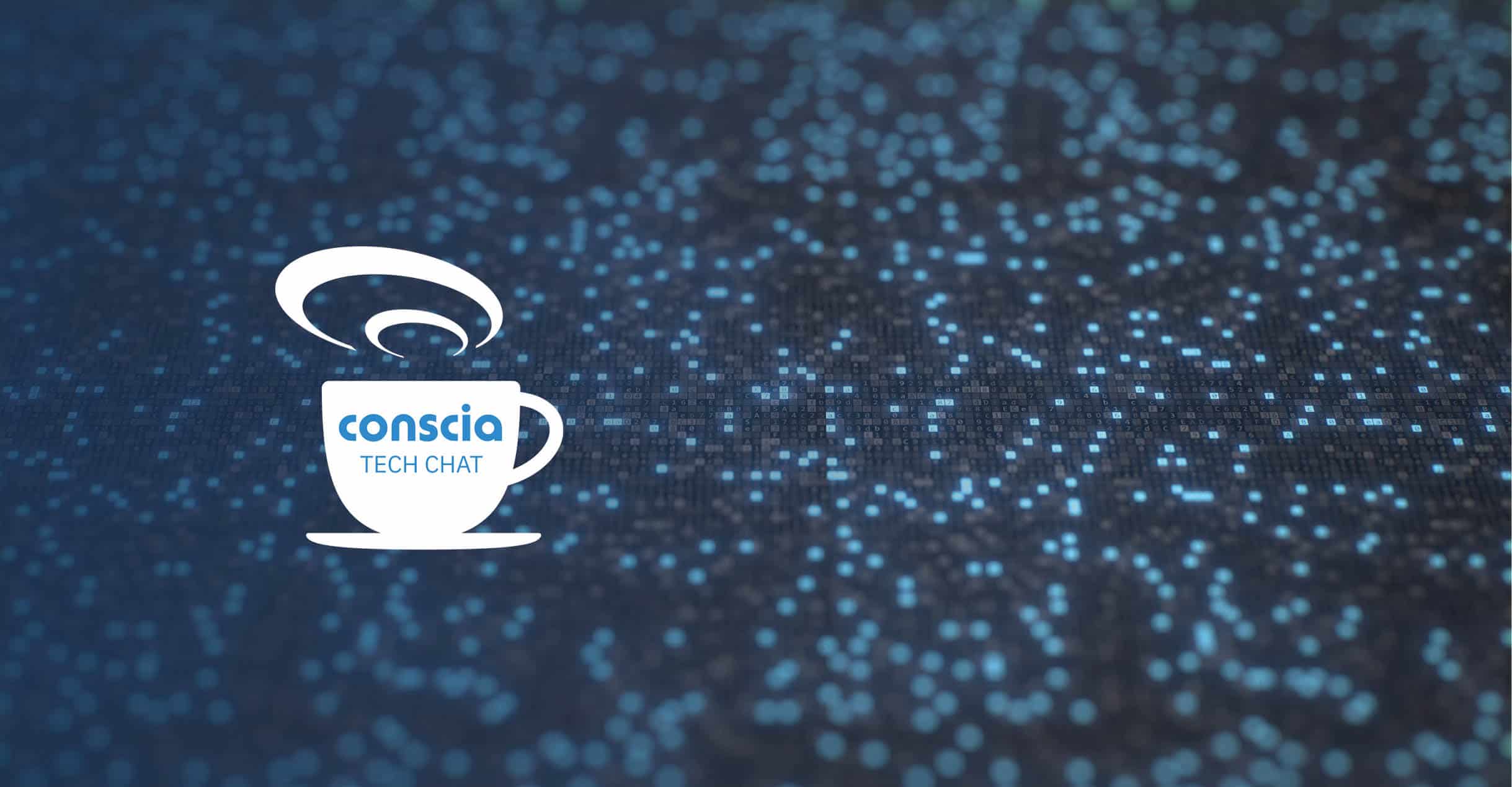 I Conscia Tech Chats diskuterer Conscias vært Nikolaj Andersen Wølck, Solutions Architect, forskellige sikkerhedsrelaterede emner med andre eksperter, og der dykkes ned i interessante områder,...
Læs mere