Let's just get it out once and for all: Cisco's 5508 Wireless LAN Controller has done EXTREMELY well. A platform, with practically more than 7 years behind it and still functioning irreproachably. This is almost unheard of in the IT industry.
In fact, it is even more unheard of in the wireless world where new standards and functions constantly pop up faster than fungus in the forest in a rainy Danish summer.
"The very first release note for WLC software for 5508 that I can find goes way back to 6.0.x. We've just started January 2018 and the latest version of the Wireless LAN Controller is the 8.5.110 software, which came out in December 2017.
This one is ALSO fully supported by the 5508 platform – but the 8.5 software track will be the last software for this platform – the same applies to other older Cavium-based WLCs.
That does not mean that 8.6-software that was also released in December 2017 does NOT support these platforms.
Challenged hardware
As regards the CPU the 5508 platform has always had a number of cores to rely on, and I have practically never experienced a CPU-overloaded 5508.
Inside the box under the two large cooling plates, two 5645 Octeon Plus CPUs are placed – with 10 cores each. The one is a tad faster than the other and it is not hard to see which one handles what.
In my view it would be most logical if the one handles everything to do with the OS, while the other handles the network. Aside from that, there is one small difference – the one is 600 Mhz and the other is 800 Mhz.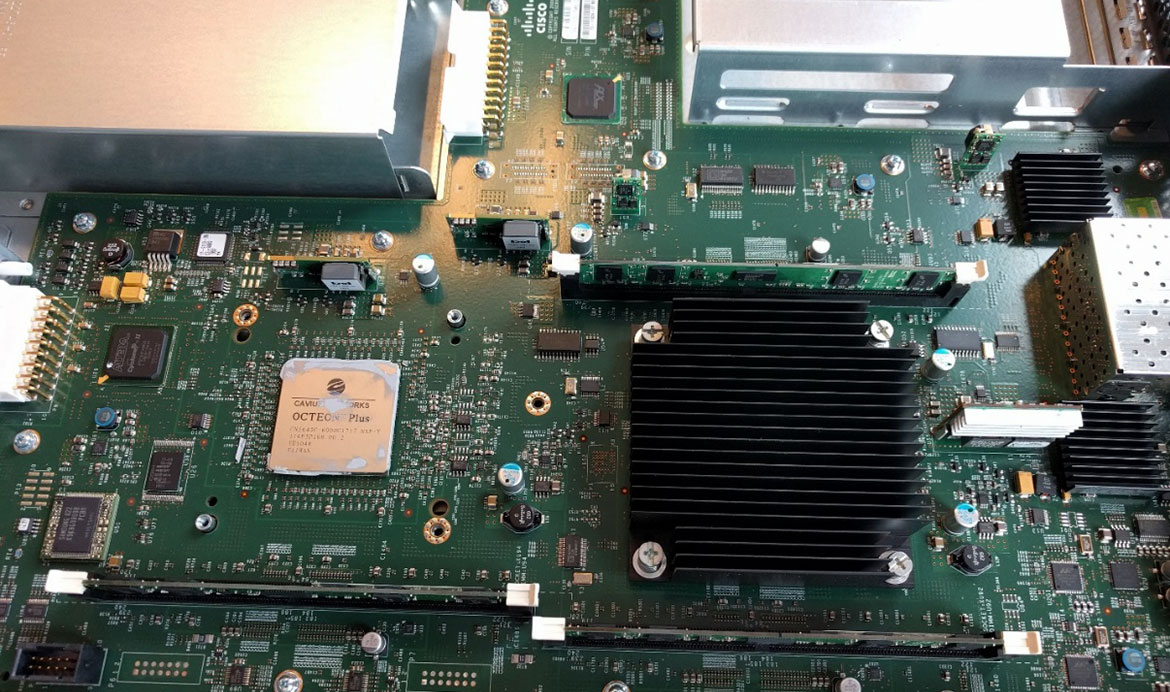 The contents inside a 5508 with the large cooling plate removed from the CPU.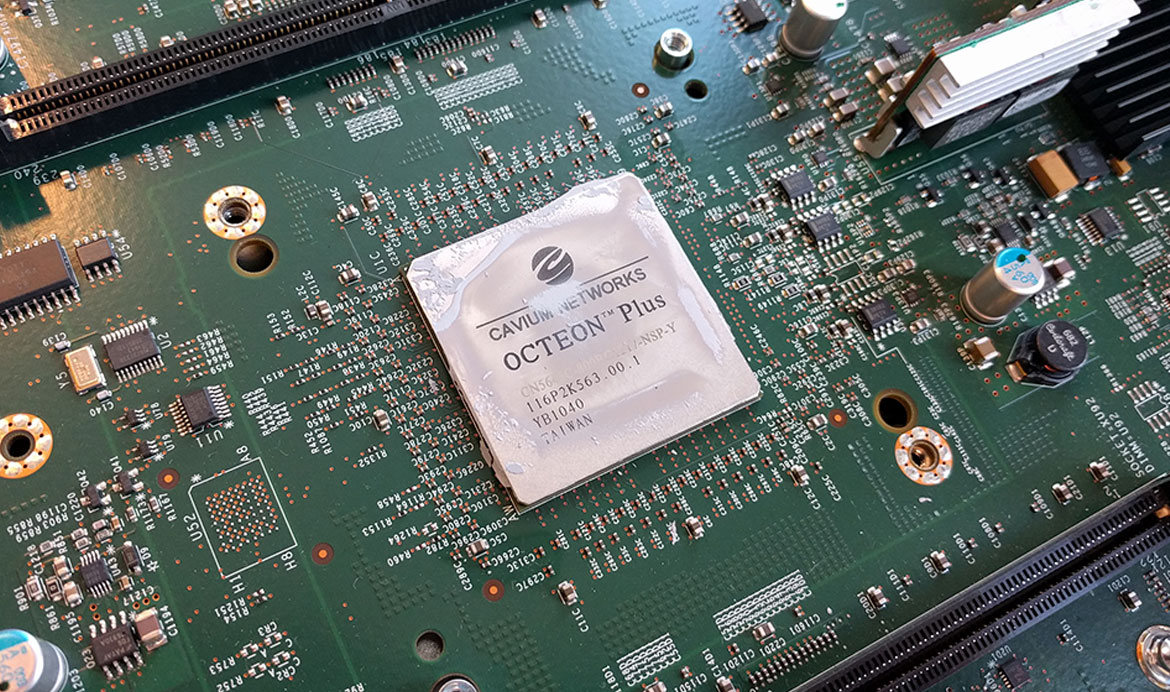 Contents of the other CPU – also without the cooling plate.
A bandwidth of 8 x 1 Gbit is still acceptable for the majority. But the more we upgrade the infrastructure to mGig and 10/40/100 G, the sooner we will get to a point where it is not enough.
Hungry RAM
When it comes to RAM it is not that great. When we study the above picture more closely we see some little circles littered around the two CPUs. The one CPU, which I assume is running dual-channel, has 2x 512 Mb. The other has a single 1 Gb RAM block.
Inside the WLC the OS is talking just 1Gb RAM. 1GB RAM was reasonable 6-7 years ago, however, today even the cheapest smartphones have more RAM available than the controller in 5508.
The 1 GB of RAM the OS has at its disposition is dedicated to managing 7,000 clients at the same time (different states) and up to 500 AP channels, transmit power and disruptions – just to mention a few.
Additionally, there must also be space for all the new features that have come up since version 6.0 – which is A LOT.
For example, the wonderful new graphic actions in WLC, Application Visibility and Control (AVC), where we hide even more information about everything possible and impossible in RAM – extremely hungry. So, I am afraid it will soon come up short.
Already with software version 8.3 it was clear that there was more going on.
Across all of Cavium – meaning the CPU in 5508, 2504, and the WiSM2 platforms – we saw that the software was split in two. One part is traditional software with AP images. But not all images are included because a few select APs are in a separate image file.
This does not mean that you cannot have all AP images in the box, but suggests that there may occasionally be conditions on the platform that force programmers to find "workarounds" to get everything to work 100%.
And, lastly, make no mistake – everything does indeed work 100%. However, there is something to suggest that this platform is about to become dated: A tiny little side comment: Am I the only one to notice that the GUI on these platforms in version 8.0+ seems a little slow?
New licence types
Typically, hardly a year passes between the launch of a new platform in the same series, and the old one going into End of Life cycle.
There was also a platform that looked fabulous on paper – namely, the 5760 Wireless LAN Controller. This was the first attempt at making a WLC that used the IOS instead of AireOS, and here there were many of us that thought that this WAS the replacement. Full stop!
But to be honest, it was never as good as I had hoped.
On the other hand the "right" replacement, the 5520 platform, has now been available since mid-2015 – as much as I can glean from the old release notes.

Cisco 5520 wireless controller
Meaning that there has been a platform ready for some time that is a worthy replacement, which is why my assessment based on previous experience is that the 5508 will seriously go into EoS shortly.
Quite a few companies have done very well with the 5508 Controller. And perhaps many more will still do so but is becoming increasingly more critical to planning what the next step should be when 5508 goes to EoS.
Therefore, Cisco has put together a few beneficial trade-in programmes where you can get 5520 and new licences. Fortunately, these new licences are Cisco ONE licences, meaning that they are not bound to the platform like we have been used to with 5508. This also means that if you change WLC again, these licences can be moved, which is unfortunately not possible with 5508.
How long these programmes will be available for is anyone's guess. A cautious message could be that it will end around the time 5508 goes EoS.
Consider new routes
If you have made major investments in Cisco APs (802.11ac generation) this is probably the way to go. But many have opted for smaller investments in 802.11ac APs – to their 5508 802.11n generation AP – as a rolling replacement.
In exactly this case a bigger investment in a new WLC could pose a challenge, so it is a good idea to consider Cisco Meraki. One thing is investing in new APs but if the equipment still needs to be replaced, it is actually not a bad idea.
It is no secret that Meraki's solution is managed from the cloud. This cloud licence for an AP is the same, regardless which AP you buy and or replace it with. The only thing you need to be aware of is that you must have the same number of cloud licences as you have APs.
Additionally, you should also calculate how well the 5520 controller suits the current setup.
The 5508 controller started from 12 APs, and in theory the 5520 starts from 0 AP. But the 5520's correct "target" is from 100 APs and up. Cisco has also launched the 3504 platform of the WLC, which is a 0 to 150 AP platform.

This WLC fits really well in the segment that in their time purchased 5508 WLC with 0-100 APs in mind. At the same time, it supports the same features as its big brother – including Stateful Switchover in case of a crash. And it has the mGig port for up to 5 Gbit throughput.
If your company is in this segment and has some older 802.11n APs and the 5508 WLC, I am in no doubt that you have two option: Continue with 3504 instead of 5508 – or find a totally new route – for example, Meraki.
By Thomas Obbekær Thomsen, Network Systems Engineer, Conscia
An impassioned tech nerd and a Wild Wireless Wizard. Has worked with wireless since way back in 2008, and has a "dark" background in IP telephony. Works with design and implementation of anything wireless, from tiny installations to solutions with several thousand same time access points and clients. Whenever possible, Thomas Obbekær Thomsen gladly digs deep into the technology.
Certifications: CCNA, CCNA Wireless, CCNP Wireless, CCNP R/S, as well as other specialisations.