Its been three years since I attended Cisco Live in person, so now finally – Cisco Live EMEA 2023 – Amsterdam!  I've attended the online Cisco Live's during the pandemic, but nothing beats the feel of Cisco Live IRL, meeting colleagues from Conscia (all group), competitors, friends/colleagues from Cisco and last but not least all the Team, Advocates and Rockstars from Cisco Insider. It is quite a week for a Cisco engineer, a great experience that I would like to share with you.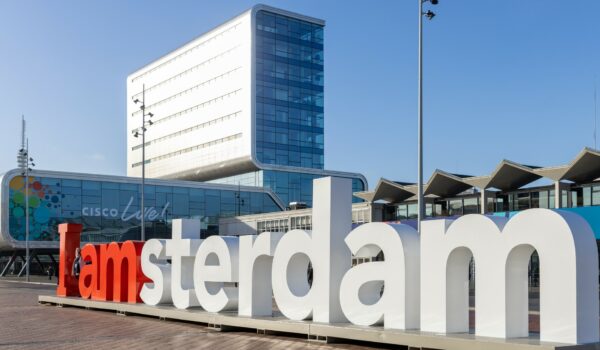 Cisco Live EMEA 2023 – Amsterdam is the 5th Cisco live I attend. As always my travel started on Sunday, this time the trip didn't start super early, my train's departure from my hometown to Copenhagen Airport was 10:32. The flight from Copenhagen Airport took off on time at 14:20 and landed at Amsterdam Schipol Airport at 15:45. After checking in at the Hotel for the Week, NH City Center Hotel, me and all Conscia Colleagues went to the venue for Cisco Live, Amsterdam RAI, and took care of the registration (badges and giveaways). As always it was a backpack with a water bottle.
Sunday night was spent together with my Swedish Conscia colleagues and customer representatives, we had a nice dinner and we turned in pretty early.
Cisco Live EMEA 2023 – Amsterdam begins: 2 x 4h sessions
Monday was spent in two technical sessions (four hours each):
1st: The essentials of ACI troubleshooting (TECDCN-3391). It's always good to be reminded about the basics in troubleshooting and being showed new ways to troubleshoot in this pretty complex networking solution Cisco ACI.
2nd: IaC with ACI – A CI/CD journey with Ansible and Terraform (TECDCN-2131), this was a really interesting session with Ramses Smeyers and Chris Paggen (both from Cisco) and I got some ideas on how to I can use Terraform in a more efficient way provisioning mainly Cisco ACI.
On Monday night I attended the Cisco Hybrid Cloud drinks & dinner, were I got to meet new people from Cisco, Pure Storage and colleagues from Conscia Group.
Tuesday: Six sessions and a nice dinner
Tuesday started early as almost all the other days with a session start at 08:30. The sessions I attended were:
1st: An interactive conversation about Nexus Cloud, Nexus cloud will be the SAAS version of Nexus Dashboard Insights and the session was about Cisco developers finding out what we wanted prioritized.
2nd: Build a simple yet powerful CI/CD pipeline with Cisco ACI and Nexus Dashboard Insights, this session was a DEVNET session showcasing a full CI/CD pipeline where Nexus Dashboard Insights was used to do both a pre and post validation of changes to be performed in the ACI fabric via Ansible. If the pre validation passed the changes then got implemented in the ACI fabric and then the post validation is performed. This pre and post validation is performed by Nexus Dashboard Insight Change Analysis.
3rd: UCS X-Series: Blurring the Line between Rack and Blade for Modern Applications, this was a session about the next generation UCS servers, mainly blades (X-Series) and how we can do really cool stuff with the new blade chassis, for example add GPUs (multiple) via a PCIe bridge in the slot next to the server in the chassis.
4th: Getting started with the Nexus Cloud API, a DEVNET session about utilizing the API in Nexus Cloud to perform cool things
5th: How to Operate your Nexus and ACI networks from the cloud with Nexus Cloud, this session was a deeper dive into Nexus Cloud and what you can accomplish with this SAAS product from Cisco.
6th: Growing the Network with 400 Gbps Coherent Pluggable Optics, this session was about a new breed of 400G enabled QSFPs that can be used for manly ISP networks but also in the DC (limited which switches are supported though).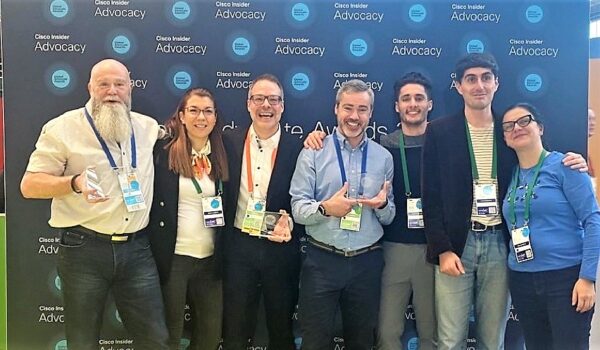 Tuesday night I attended a dinner for Cisco Insider Advocate Rockstars, which I'm a part of. This dinner was a really fun one where I got to spend the night in the company of many of the Cisco employees of the Cisco Insider/Marketing team and my fellow Cisco Insider Rockstars.
I had a blast getting to know all of these people who attended. As always when you are having fun you don't notice the time and I was late back to the hotel.
Wednesday: Best day – with Cisco Insider team
Wednesday was the best day for me. I attended one instructor led lab in the morning and some sessions after lunch but the afternoon, from 16:00, was spent with the Cisco Insider team and fellow Advocates, see here on the right: Cisco Insiders at Cisco EMEA Live 2023, fr l: Joacim Wicander, Mirela Zalac, Damian Erni, John Pell, Nic D'Amato, Valerio, Mariley Reinoso Oliver
The sessions I attended was:
Lab: ACI Automation & programmability Lab, this lab was about using some of the tools available to automate things in an ACI fabric. Postman, Python and JavaScript to build a frontpage that could provisioning things in the ACI fabric.
1st session: Cisco Cloud Network Enabler – Hybrid Cloud Infrastructure and Policy Automation enabler. This session was a bout the newly renamed Cisco Cloud network Controller (formerly known as Cisco Cloud APIC).
2nd session: Deploying Nexus Dashboard in your organization, this session was about deploying Nexus Dashboard, both Physical and virtual appliance (On-prem).
Cisco EMEA Customer Advocate of the Year 2023

The rest of the afternoon was spent in the company of Cisco Insider team and my fellow Advocates for the Global Advocate Awards Ceremony. I was nominated for 2 awards and was awarded one, the most prestigious award of them all: Cisco EMEA Customer Advocate of the Year 2023. after the ceremony the winners spent a lot of time getting congratulated and tons of photos taken. If you want to read more about the awards you can go here .
After the award ceremony and celebration of us winners my evening was spent with Conscia Sweden colleagues and customers joining us at Cisco Live at De Kroon Amsterdam. An nice and relaxed dinner with excellent friends/colleagues and customers.
Thursday: Six Sessions and Cisco Live Appreciation Party
Thursday was another day full of sessions. it started as it has done so far at 08:30 in the morning. The sessions I attended were:
1st: Nexus Cloud: How to manage you Nexus Data Center from the Cloud. Another session about the SAAS service Nexus Cloud.
2nd: Working with the Intersight API in Go. A session about the SAAS service Intersight from Cisco and how you can utilize the API in the programming language Go.
3rd: A Networks Engineer's Blueprint for ACI forwarding. A very informative, good and deep session about how ACI handles traffic forwarding and how you can troubleshoot this.
4th: CI/CD pipelines for Infrastructure Automation. A session about how you can build you CI/CD pipelines in GitLAB for your infrastructure Automation
5th: ACI L4-L7 Policy-Based Redirect deep dive and Tips. A session about how PBR in Cisco ACI works and what to look for if you are running into issues. This was presented by Minako Higuchi (I believe she was part of the development of PBR in Cisco ACI and she was very knowledgeable about ACI and PBR in ACI)
6th: Making your ACI Automation as modular as LEGO bricks using Terraform Modules, a DEVNET Workshop about how you can utilize Terraform Modules to make Terraform perform more efficient. This gave me some ideas I want to try with Terraform.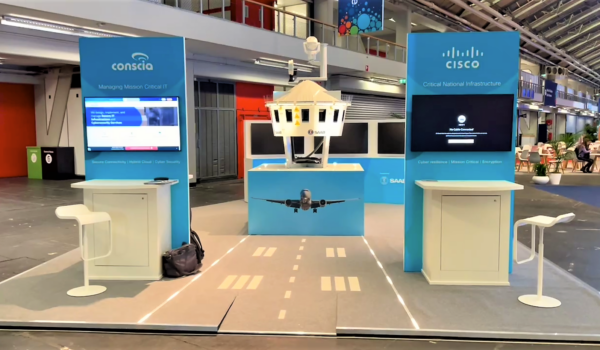 After the last session we had some time to take some group photos in the fantastic Conscia Netherlands booth in the Hub, showcasing Conscia's excellent work with Dutch Remote Air Traffic Control, powered by Cisco and Swedish Saab. I also took some videos of the booth. After this we went to the Cisco Live Appreciation party. Here we saw some DJs and Live band perform, got some street food and beer, wine and cocktails. After the food and initial beers, we went to a area in front of the stage where there was a little less people (not as crowded as everywhere else) and my colleagues disappeared on me after some time so I started to look around for them and found the Cisco Insider Team and some Advocates so I spent some time with them, drinking to much beer and enjoying the UK's Number One Event Band RPJ onstage.
Friday: ZZ Top Guy
Friday was spent in 2 sessions before going to the airport for the trip home. the session I attended was all about NVMe over fabric.
1st session: DCNM SAN insights – Real-Time and Always-on NVMe Visibility at scale, a session mainly about SAN insights for NVMe over FC
2nd session: Dos and Don'ts of Deploying NVMe over Fabrics, a session about deploying NVMe over fabrics (FC, TCP and RoCEv2)
Both these sessions was presented by the same excellent guy; Kamal Bakshi. He gave me a nickname before the 1st session: ZZ Top guy.
The travel home felt to take all to long as always, I just want to be done with the travel at this point. I even got the opportunity to practice some of the things I learnt at Cisco Live EMEA even before I was home which made the traveling pass much faster for me.
Cisco Live EMEA 2023 – Amsterdam: a huge success
So in Summary, to me Cisco Live EMEA 2023 – Amsterdam was a huge success and a really nice conference to finally meet Cisco Insider Team and Advocates IRL and not to forget spend time with colleagues and getting to know them better. I hope to have given you an insight into the education, networking and joys of a Cisco Live, an experience that I can thoroughly recommend.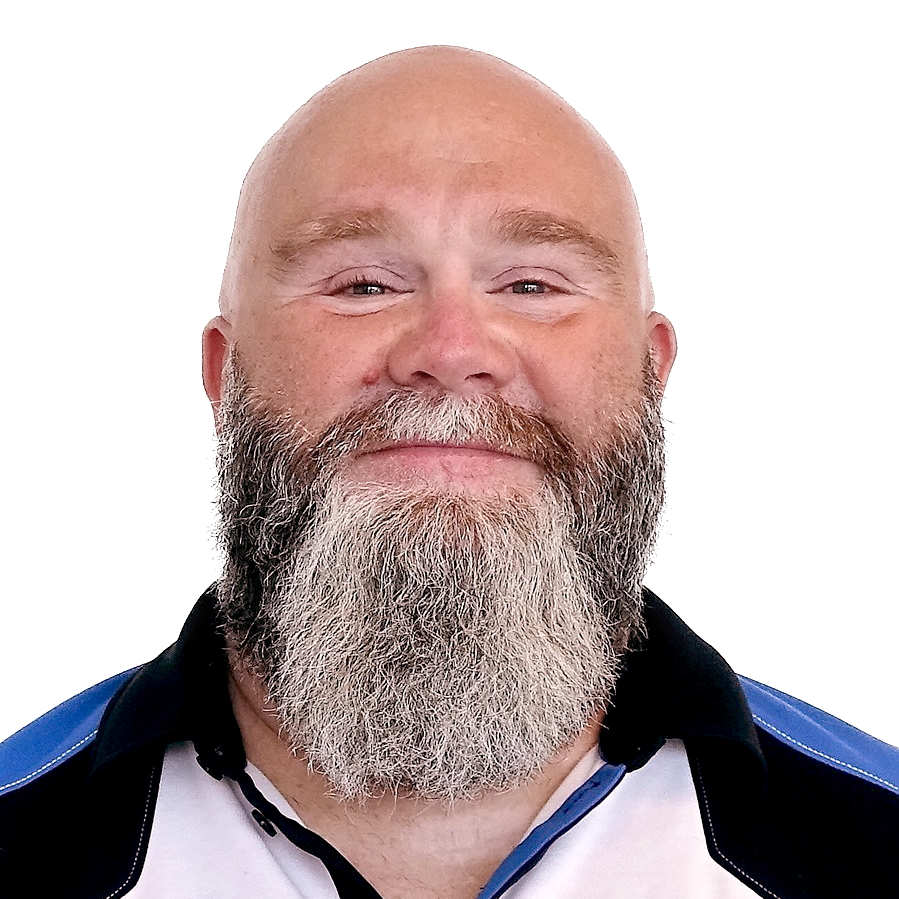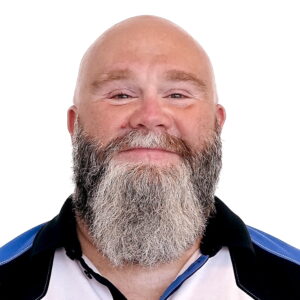 Joacim Wicander
Proud Cisco EMEA Customer Advocate of the Year 2023
CCIE and Sr Data center engineer
Conscia Sweden
Other content with J Wicander: Cisco Insider blog and a Cisco interview with Bill Kleyman