Conscia, a European specialist in networking, cloud infrastructure and cybersecurity solutions and services, today announced its annual results for the period October 1, 2021 to September 30, 2022. The company consolidated its strong market position with solid organic growth across technologies and geographies, particularly in the Nordics.
Highlights
Revenue increased by 19% to DKK 3,277 million (2020/21: DKK 2,750 million)
High organic revenue growth founded on very strong Nordic performance, double-digit growth in Services, and higher than expected growth in Solutions
Normalized EBITDA came to DKK 351 million (2020/21: DKK 309 million) leading to a stable normalized EBITDA margin of 11% despite gross margin impact from supplier delivery challenges
Record high order intake
For the financial year 2022/23, Conscia expects to deliver high single-digit organic revenue growth and slightly higher growth in normalized EBITDA, excl. acquisitions.
Conscia strengthened its European market position in secure network, cyber security, and cloud infrastructure by further growing its managed service offering and leveraging its comprehensive geographical solutions footprint established through recent years' growth and consolidation. Revenue grew by 19% to DKK 3,277 million with only a small non-organic impact from the acquisition of RedLogic in October 2021. The strong organic growth was driven by a particularly strong performance in Denmark, Norway, and Sweden.
"Our 2022 results confirm that we are on track to build a European market-leading IT specialist in networking, cybersecurity, and cloud. In the short term, our strategy is to continue broadening our solutions and services in each market and leveraging our offerings and competencies across the group. This has been a great success," says CEO Erik Bertman.
"Our sales organization is performing very well benefiting from cross selling and cross learning, and we have now positioned ourselves as a strong partner in all our markets for all major vendors, such as Cisco, VMware and Palo Alto Networks, and for customers. In other words, we are really harnessing the power of our One Conscia approach to win market shares," Erik Bertman continues.
Important growth drivers were new service offerings, especially in the areas of cybersecurity and software-defined networking, and Conscia's ability to offer a broad solutions portfolio across geographical markets thereby meeting core customer needs no matter where they arise.
"Through a combination of major contract wins, a very strong sales effort, and record-high order intake, we were able to lift Solutions revenue by 22% despite continued supply chain challenges. Looking ahead, fast-growing recurring revenue from our service offerings, a solid order backlog, as well as high customer and employee net promoter scores provide a strong foundation for our continued growth and development," says Erik Bertman, and continues:
"In the Nordics, we succeeded in winning large, public tender contracts. In Norway, Conscia has been selected for modernizing IT networks in the largest public health region, and in Sweden, a new framework agreement allows Conscia to compete with six selected suppliers in public tenders for IT-solutions and services within network and security to the public sector. Both agreements will positively impact revenues over the next four to six years.
Normalized EBITDA came to DKK 351 million, leading to a stable normalized EBITDA margin of 11%. Conscia has lifted normalized EBITDA by 14% annually over the last three years while significantly investing in strengthening of best-in-class technical competencies, complete solutions offering, differentiated services and international footprint.
Conscia's Services business provides 24/7 vendor, own-developed and managed IT services to customers by supporting IT solutions and actively operating and monitoring installed hardware and software. In 2021/22, Conscia had strong growth in its managed services offering, especially within cybersecurity. Services revenue grew by 11% to DKK 821 million, corresponding to 25% of total revenue.
Through its Solutions offerings, Conscia provides the design and implementation of network, cybersecurity and cloud infrastructure, which also includes accompanying hardware and software to customers. Solutions revenue grew by 22% to DKK 2,456 million in 2021/22, corresponding to 75% of total revenue.
Outlook for 2022/23
Conscia is well-positioned in an attractive market that is impacted by several positive trends, e.g., shift to hyper-converged infrastructures and software-defined networks, cloud transformation, increased cybersecurity risks, and cost of network failures. For 2022/23, Conscia expects to deliver high single-digit organic revenue growth, slightly higher growth in normalized EBITDA (reported EBITDA adjusted for non-recurring costs) and add more than 50 employees compared with 2021/22.
This view is considered the most likely scenario. However, world events beyond the control of Conscia, such as the war in Ukraine, increased inflation and interest rates, have increased the risk of a European or worldwide downturn. Conscia acknowledges that a negative development in the general business environment could impact Conscia's ability to deliver the expected results. 
Selected financial highlights and key ratios
| | | | |
| --- | --- | --- | --- |
| DKK million | 2021/22 | 2020/21 | 2019/20 |
| Revenue | 3,277 | 2,750 | 2,293 |
| Gross profit | 921 | 848 | 678 |
| EBITDA | 286 | 270 | 225 |
| Normalized EBITDA* | 351 | 309 | 257 |
| Normalized EBITDA margin, % | 11% | 11% | 11% |
| Result before net financials | 116 | 110 | 80 |
| Net financials | (195) | (192) | (180) |
| Result for the year | (99) | (98) | (102) |
(*) Reported EBITDA adjusted for non-recurring costs
 For further information, please contact:
Daniel Siberg
Group Chief Sales & Marketing Officer
+46 734082778, [email protected]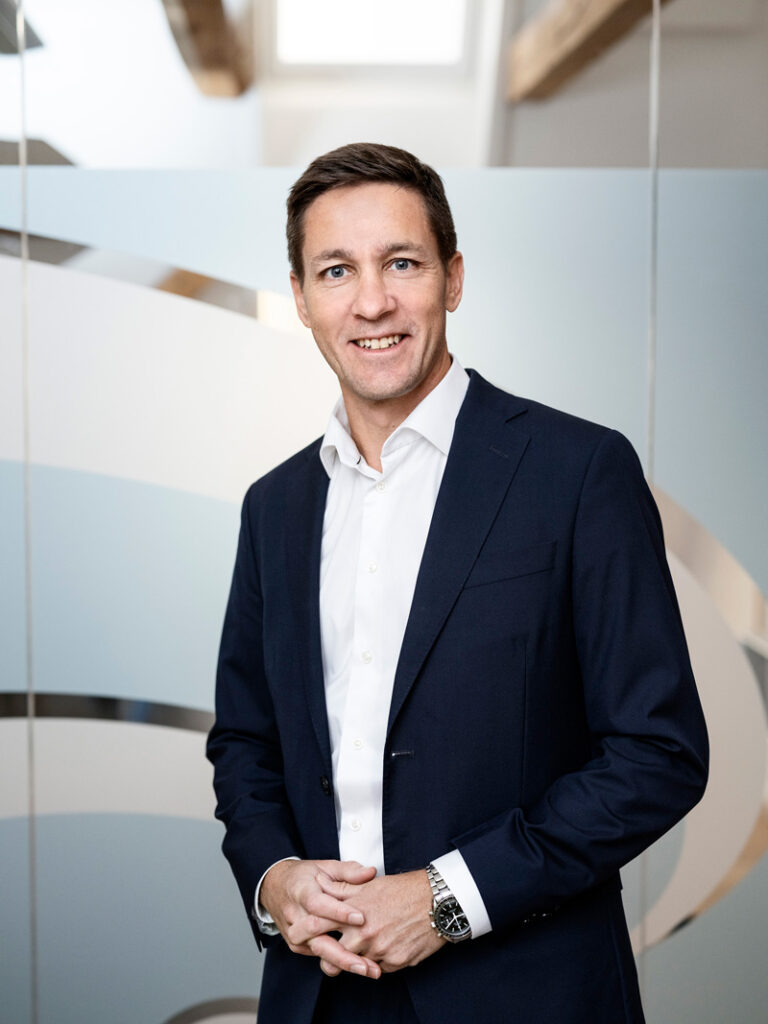 Erik Bertman, Chief Executive Officer, Conscia A/S