We can all trust each other
Sara Snyder has been working for Conscia in Germany since 2019. She is a Service Technician at the service desk, helping customers with various issues and questions.
"I like working here helping our customers. Sometimes it is only normal support, and other times we have an issue that we all work together to fix for a customer. Every day you are here to try to help the customer out in any way you can, and it works absolutely great, says Sara Snyder."
She likes to work in a company where people work together and know each other, even though people are located in six different countries.
"Conscia is kind of big. We are a lot of people working here. But it doesn't feel big. It still feels "small" inside the company. Everyone knows each other, and we get to know more and more people across borders too. For example, I work with people in Slovenia, but it still feels kind of close working with them."
Respectful and friendly environment
As a company where people work in different countries and comes from very different backgrounds, it is important to have an environment with room for all.
"Everyone here at Conscia is treated with much respect, whoever you are. You are in an environment where everybody is friendly and respectful. We are a lot of different people when it comes to age, gender, and nationality. We have people from all around the world working here in Germany. So, diversity is very present," Sara Snyder says.
Trust and development
"Here, we can all trust each other. We can always be sure that no one will point fingers if something goes wrong. No one is throwing each other under the bus. You will just learn from it. So, you are not afraid of doing anything wrong."
Another good thing about working at Conscia is the possibilities for developing yourself.
"At Conscia, there are several ways to develop yourself. You can get experience from working in different areas, and you can choose to really dive into and study a specific topic to learn more about it if you like. You are also encouraged to learn something new by the manager."
Proud to work for Conscia
Sara Snyder also likes to work and share knowledge with colleagues in other countries and with customers.
"When we work on different tools and projects, we engage with technical people in other countries. We share knowledge and get close to our colleagues, and I am sure we will do that even more in the future. We are working very closely with the customers on all technical issues, and we know their needs. Our customers are not just a number. We build a relationship with them and visit them to help, so they have a real person they can relate to."
"I am proud to work for Conscia because we always develop new ideas. We don't just stay where we are, but we look ahead and develop new solutions instead of just sticking to systems that are working right now. The world is developing and so are we, and that makes me proud," says Sara Snyder.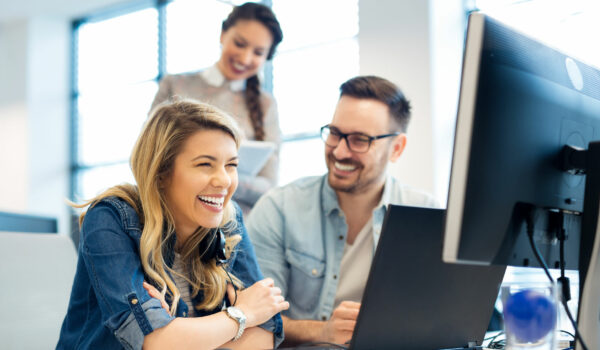 Would you like to join our Network of Knowledge?
At Conscia, you will be part of a unique European network of knowledge at the forefront of technical development within critical network design, cybersecurity, cloud solutions, and support. As the IT backbone of our customers' success, we take pride in deliver on promise, value diversity, and collaborate closely to maintain our curiosity to learn for life.