Wi-Fi 7 – Free guide for businesses – Streamline your business with WiFi 7 – Next Generation Wireless Network
–> Get it sent to your email
Improve the productivity and efficiency of your company's employees and make it easier for guests to connect to your network.
Higher network speeds
Better coverage & capacity
Improved security and lower energy consumption
What are the advantages of WiFi 7 for businesses?
Increased productivity: Faster data speeds and lower latency mean employees can work more efficiently and faster.
Scalability: Enhanced support for multiple devices and IoT solutions without worrying about congestion or performance degradation.
Improved security: WiFi 7 will have improved security protocols and encryption to protect against cyber threats.
Energy efficiency: With higher energy efficiency, companies can reduce their energy costs and their environmental impact.
Improved coverage and capacity: Businesses can offer a better user experience in larger areas and in areas with high user density, such as offices, hotels, conference centers and shops.
Flexibility: WiFi 7 allows businesses to quickly and easily adapt to changing business needs, such as adding new devices, expanding the network, or introducing new services and applications.
Fill in the form and the whitepaper will be sent directly to you on email.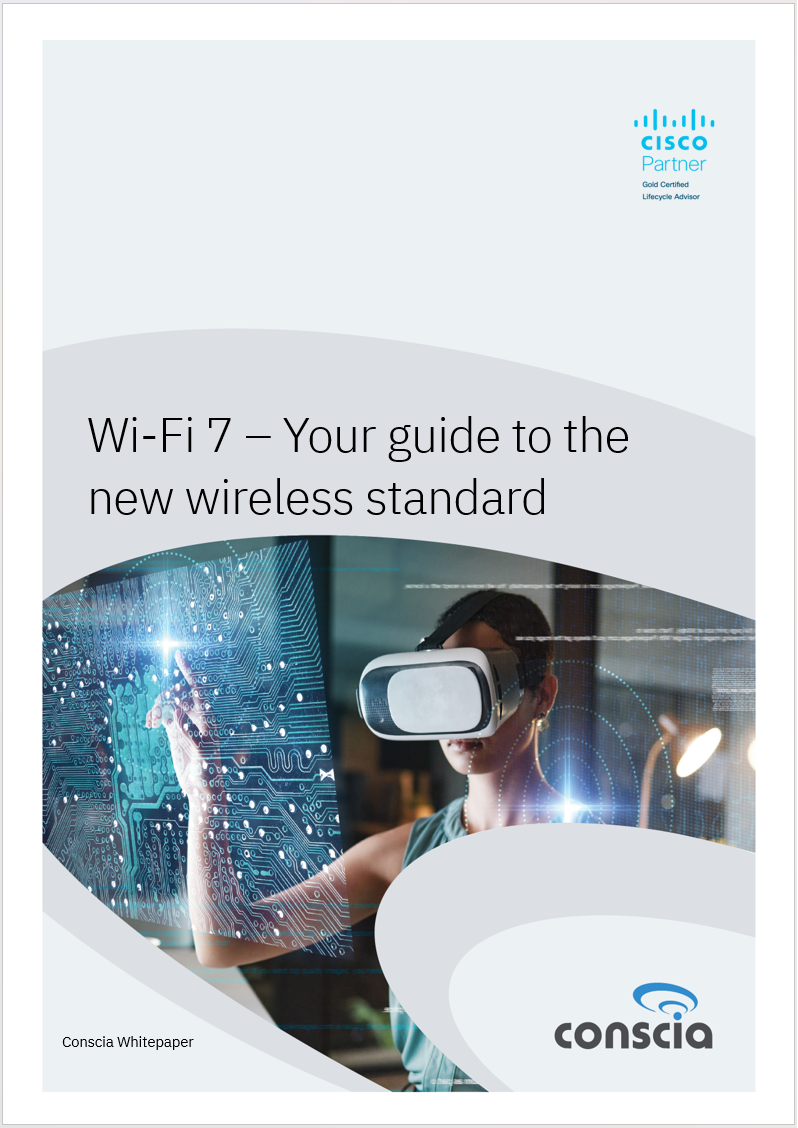 Contents: Wi-Fi 7 – Your guide to the new wireless standard – Conscia Whitepaper:
Wi-Fi 7 in brief    3
Wi-Fi 7 – how has the development been?    3
How Wi-Fi 7 works    4
Challenges we face with Wi-Fi 7    5
Key technologies in Wi-Fi 7:    6
What investments are required?    7
5G and Wi-Fi 7, are they competing with each other?    7
About the author    8
About Conscia    8
Give your employees and guests a superior wireless experience
WiFi 7 has the potential to revolutionize your business by offering improved speed, range, and capacity for your wireless network while raising security and optimizing energy consumption. This can result in increased employee productivity and efficiency and a smoother connection for your guests.
To facilitate the implementation of these benefits, we have created a comprehensive guide about WiFi 7, which can now be downloaded for free in PDF format. Our guide provides all the information you need about WiFi 7 and how to implement it in your company.
In our guide, we explore the following topics, as well as others:
WiFi 7: An introduction and how it differs from previous wireless standards.
The key benefits of WiFi 7 and how these can benefit your business.
Preparations for the transition to WiFi 7 and what actions are required for successful implementation.
Optimizing your network for WiFi 7 and managing challenges that may arise.
Our guide also includes a range of practical advice and industry insights to help you take full advantage of WiFi 7. By downloading our guide, you get access to all the information you need to ensure that your company's wireless network is ready for the future and performs at top level.
So what are you waiting for?
Download our Wifi7 guide as a PDF for free and discover how you can take advantage of the latest wireless networking technology in your business!